Download your Missouri QSO Party
SPELL SHOW ME and SPELL MISSOURI
Awards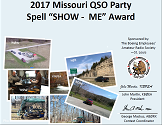 Please follow these easy steps:
Click on the SEACH FOR MY CERTIFICATE link below.

Enter the call sign used during the MOQP and click SEARCH.

Select and click on your certificate to download.
Multi-Op stations, there is an individual certificate for each multi-op team member.
No slashed zeros, please -- the search engine does not like them!