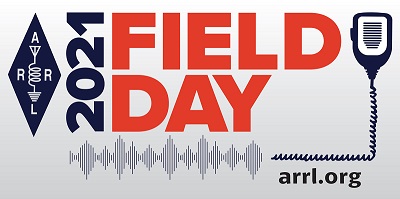 The BEARS have no specific plans for Field Day (FD) again this year due to COVID restrictions still in place. Since things are starting to open up again, we are encouraging club members to get on the air for Field Day, either on your own or in smaller groups. The ARRL has extended the 2020 FD rules changes into 2021 to allow individual club members to get on the air on their own, then submit scores including a club name so an aggregate club score can be calculated and published. More details may be found on the ARRL website:
With that in mind, BEARS-STL members are encouraged to get on the air:
Get on using your home station.

Consider setting up in your back yard for more of a traditional "Field Day" experience.

Go to a park and get on the air, even if it's just for Saturday afternoon or Sunday morning.

If you like to camp and have camping equipment or an RV, consider going to a campground and operate for Field Day.
I'm sure there are other, more creative options not mentioned here, so be creative, get on the air and be sure to remember two things:
When submitting your Field Day entry, be sure and enter the club name as: "Boeing Employees ARS - St. Louis"

as your club affiliation (spelling of the club name must be exact). Then your score will be added to scores from other BEARS members, to arrive at a total score for our club

Take pictures and send them to newseditor@w0ma.org for inclusion in a future newsletter.
Field Day Logging Software (Note that Writelog is NOT on the list [yet]):
The following logging software is known to offer support for Field Day, and can be used for logging Field Day contacts:
Field Day Rules and Entry/Results Submission:
http://field-day.arrl.org/fdentry.php
Entries must be postmarked or submitted via web app at: http://field-day.arrl.org/fdentry.php by Tuesday, July 27, 2021.
Be sure and enter the club name as: Boeing Employees ARS - St. Louis
Above all, have fun with it!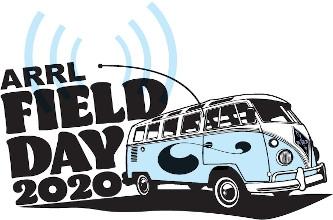 Because of the CORONA Virus, our officers have been discussing various possibilities for 2020 Field Day. Our current information is that company re-opening rules will likely preclude multiple people from occupying the EOC later this month, so it would not be possible to conduct a multi-operator, multi-transmitter operation there, like we've done in past years. Also community re-opening standards are likely to prohibit large gatherings at public parks, which would also rule-out traditional Field Day portable operations.
The following table provides a history
of Field Day results for the club:
Details

Hits: 3876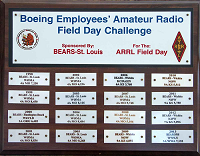 Field Day Challenge
The Field Day Challenge is a private competition between Boeing affiliated amateur radio clubs participating in the ARRL annual Field Day event. The object of the Field Day Challenge is to motivate Boeing affiliated clubs to participate in the ARRL annual Field Day event, create a friendly competition and camaraderie between clubs, and to recognize excellence in contesting performance. A single plaque is awarded to the winning club on a revolving basis.
Details

Hits: 3592